COAPPARATION (Teil 3) Atelierstipendien: 2021 - 2022
STUDIO GRANT
September 2021 - March 2022



02.-30. September 2021
02.-30. Oktober 2021
01.- 26. November 2021
28. November - 23. Dezember 2021
26. Dezember - 20. Januar 2022
22. Januar - 15. Februar 2022
17. Februar - 13. März 2022
______________________________


NEXT STUDIO GRANT
2.-30.10.2021




Open Studio
Thealit studio (St.-Jürgen-Str. 157/159, Bremen) will be open to the public. You are cordially invited to visit Alexandra Tatar and get to know her work from the time of her



The 3G-Rule apllies to access.

In the room you are kind request to waer a medical mask.
OPEN STUDIO KALENDER
Wed. 27.10.2021 (13:00-18:00 h)
Thu. 28.10.2021 (13:00-17:00 h)
Fri. 29.10.2021 (13:00-20:00 h)


Fr 29.10. 18:00 Uhr
Video Screening
The film shows recorded interviews as well as the resulting material and documentation after the researches
Thu 28.10.2021

// 7 pm

LIVE ONLINE STREAM

Alexandra Tatar - Artist Talk:

Recollections of a cold war working body

or: "What is 'RASTPLATZ'?", he asks in Romanian.




or at our

twitch channel


For the residency I will start working on the topic of Coapparition*, by recuperating a family history of 'temporary' migration to Germany. My grandfather was a 'guest worker' in FRG (West Germany) at the end of the 70s, mediated to a German company, by the communist Romanian state enterprise, where he was employed. He was a welder, and in FRG he mainly worked at expanding the gas pipeline infrastructure. His personal history was of course made possible by the west Germany's Ostpolitik ambitions, matching with those of the Romanian government at that time, and the resulting economic treaty between the two countries.
In the frame of the residency, I will revisit and document the places where my grandfather worked. I will weld the resulting material together with the prerecorded interview and research into a video work. The first insights will be presented at the end of the residency in the frame of the artist talk.
________________________________


STUDIO GRANT YeLa An (2.-30.09.2021)
Part 1: Interview



Online Video Preview

To be seen at

Virtual Arbeitszimmer
on October 7 | 7 pm
This interview is the first part of the project, Sorrow, at the Traffic Year by YeLa An.
Four Korean artists share their racist experiences and their thought of the double oppression as Asian women in Austria and Germany before and after COVID-19. Indeed, they narrate why they thematize Asian female identities and Asian bodies in their artistic works.
This project is supported by thealit Frauen.Kultur.Labor., BMKÖS, and Bildrecht.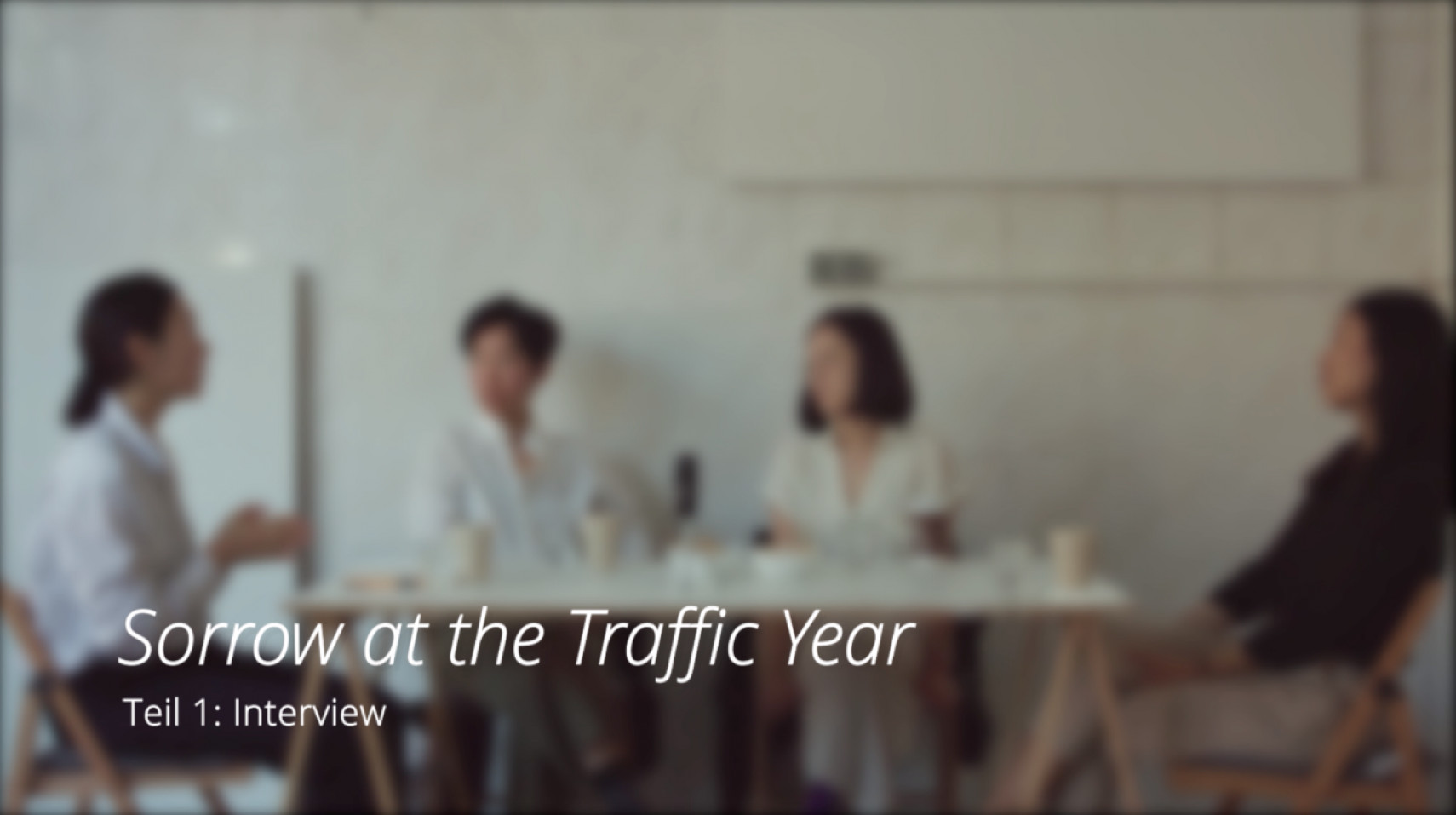 YeLa An currently based in Vienna, Austria. She studied post-conceptual art with professor Marina Grzinic at the Academy of Fine Arts in Vienna.
_For many years, she has been creating artwork concerning the mass media's former images of women and how they reflect the current state of gender (in)equality. Besides, her interest lies in analyzing the present representation of Asian women within Asia in relation to the occidental gaze.
____________________________
Arbeitszimmer:
COAPPARATION (Teil 3) Atelierstipendien: 2021 - 2022
COAPPARATION (Teil 2) Atelierstipendien: Sept. 2020 - April 2021
Programm im Rahmen von Fluidity (Februar bis Mai 2020)
COAPPARATION (Teil 1): Okt. 2019 - März 2020
Debate! Performing Antagonisms. Part 2 (Oktober 2018 - März 2019)
DEBATTERIE! Teil 1, Oktober 2016-April 2017
Lesung Queer Story 27.01.2016
The Wildes - A Victorian Salon, 7.10.2015
Buchpräsentation ***quite queer*** 16.12.2014
Vortrag: Vom 'Freudenmädchen' zur 'Sexarbeit' - 02. Juni 2014
Lesung Queer Strory 28.11.2013
>Schutzraum< Lesegruppe - Juni-September 2013
Archival Activism: Zanele Muholi & Dagmar Schultz in dialogue, 22.01.2013
Lesung: Träume Digitaler Schläfer, Do. 10.05.2012
quite queer Lesegruppe, Juni 2011-September 2012
Szenische Lesung, 03.03.2011
Forschungsprojekte: Was ist Verrat?, 10.2010-01.2011
Lesegruppe "Was ist Verrat?" April 2010-Januar 2011
Buchpräsentation: Nervenkostüme, 20.02.2010
MARS PATENT - space for free, 04.12.2009-12.02.2010
Streikladen, 15.06.-20.07.2009