STUDIO GRANT
September 2020 - April 2021


We are offering a four-week-long studio residency in the thealit workroom* (shop space) to six different female artists.
NOW @ workroom thealit
sleep over / über nachten
From 6 to 7 March 2021
from 10:00pm-10:00 am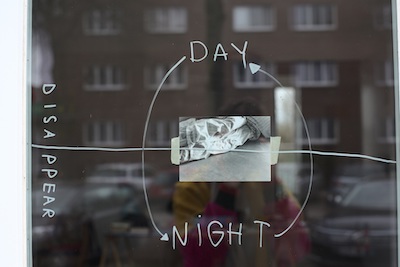 During their "on horizons" project – within thealit's COAPPARATION program, Esther Adam and Katharina M. Greeven, actually leer&gut, invite us to get together at a distance. 'Us' is limited here to 12 persons maximum: first come, first serve!
Psst: The medium is the pajama party! 


"sleep over / über nachten
From March 6 to 7, 2021. from 10:00pm-10:00 am.


Questions and registration please until March 4th by mail via leerundgut@posteo.de.
You will receive a confirmation email with further information and a link. Unfortunately the number of participants is limited to 12 people. We will speak German and English spoken language.
Are you thinking about the night?
I get less text messages at night.
We should bring each other to bed.
Do you think about rituals?
No about a feeling of security.
I think about reading aloud.
Did you fall asleep? leer&gut invites you to a pack sleep, to an online pajama party. Together we want to slip into sleep and wake up.
Falling asleep, slipping out of wakefulness. Waking up, reappearing every day anew.
Questioning and examining the intimacy of sleep. Come with(out) make up, in your favorite pajamas. Bring a toothbrush, a book from which you maybe would like to read. 
In the evening: lecture, reading aloud, sighing and yawning
In the morning: waking up, morning pages, brushing teeth


11 February - 11 March 2021
leer&gut

on horizons



"on horizons" – such the project's title of the current studio grant from thealit's COAPPARATION, starting on Thursday, February 11 – March 11 for the artists' duo leer&gut, aka Esther Adam and Katharina M. Greeven. They note: "The horizon – a line that separates the sky from the earth. This becomes the metaphorical setting for an investigation into appearance and disappearance. Your (own) horizon is always a question of position and perspective." And they put, no sooner said than done, a beautiful horizon in between the words: 
______________________________
leer&gut are a multi-tool, researchers and material-hungry. Two, morphing – sometimes disappearing into each other, sometimes appearing separately. They work with the questioning of cultural gestures, displacement, and the shifting and restaging of everyday objects and movements. In their genre-spanning works, they negotiate themes such as (in)visibility, power structures, corporeality, and vulnerabilities.
*Workroom (Arbeitszimmer) Thealit
Sankt-Jürgen-Straße 157/159
28205 Bremen


Accessibility:
The space can be entered by a small ramp. The door is 85 cm wide. There is no wheel chair-accessible toilet room in the space.


Note:
Due to the current corona rules, it is not possible to visit the study. However, it is possible to watch through the shop window. Wearing a face mask and keeping a safe distance are also important here.


Possible changes will always be announced on our website.
*COAPPARATION? Cooperation is a process or behavior that can be regarded as essential for many things, ranging from culture and cultural politics to evolution, and vice-versa. Like an engine, it enables the stop and go of functional relationships, whose complex rhythms and intervals can in turn appear instrumental. In an apparition—another word for manifestation—perhaps? In that case COAPPARATION would be a little bit of COAPPARITION, because each instance of cooperation or each instance of its rejection comes down to common understanding, agreement, inquiry, hesitation, and action.
Part 3 of the COAPPARATION project will take place in autumn 2021. A series of events featuring diverse artists, scientists, and activists will be held, to the extent that health precautions at the time allow for events to be presented in small spaces. Otherwise, this format will also be adjusted, and more work will be done outdoors and with the window, in addition to the general digital presentations.
*********************************